Currency Recycler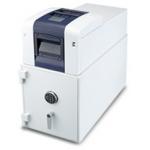 RBU-11
With superior style and performance, our recycling solution increases efficiency with Cash-in/Cash-out Automation.
Overview
The RBU-11 currency recycling machine enables banks and other financial institutions to efficiently and automatically recycle the currencies at the cashier desk. The RBU-11 automates deposits, withdrawals and change transactions while simultaneously providing effective counterfeit detection, based on an advanced detector package. It is controlled via the cashier terminal or a freestanding PC. Tedious machine replenishment and emptying is minimized due to the internal currency recycling system where deposited notes are immediately available for withdrawals.
Features
Recycling System
Increases efficiency by allowing the use of deposited currency for withdrawls. Our recycling system also minimizes jams by recycling only notes that are in good condition.
Increase Teller Productivity
Faster speed allows tellers to process more transactions quickly; increasing productivity, and reducing customer wait times.
Escrow Function
Rather than sending counted currency immediately to a cassette, the RBU-11 escrow function holds currency until the transaction is concluded. If the customer cancels the transaction or a recount is required, the original notes are returned to the teller.
The RBU-11 Currency Recycler dispenses, accepts, sorts by denomination and stores currency transactions through a single source. The RBU-11 also functions as a teller cash drawer.
Specifications
RBU-11
Capacity
Deposit
150 notes
Dispense
100 notes
Speed
Deposit
8 notes/sec.
Dispense
8 notes/sec.
Storage Units
6 Stackers
1,500 notes/stacker
Escrow Unit
400 notes
Collection Cassette
NA
Dimensions ( W x D x H )
17.3" x 43.3" x 33.9" *1
*1 Size for UL-291 24H type