Currency Recycler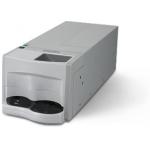 RCW-8 Coin Recycler
Prominent coin recycler for efficient cash handling for various markets.
Combined with our banknote recycler RBW-10, suitable for cash handling around the Point of Sale.
Features
First-rated Authentication Technology
An advanced authentication system which provides extremely accurate recognition and authentication of coin removes suspect coins and foreign objects without stopping the recycler. It also reduces discrepancies and shortage typically associated with manual handling.
Handful Cash-in and Cash-out
Large capacity feeder and exit allows unsorted coins to be processed in a single transaction. This significantly reduces customer waiting time, whilst the cashier focuses on customer services.