Currency Recycler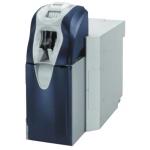 RZ-50 / RBU-10 Currency Recycler
Superior styling and performance, efficient automated banknote recycler for stress free cash handling.

 

 
Overview
Prominent banknote recycler for efficient cash handling for various markets.
Combined with our coin recycler RCW-8, suitable for cash handling around the Point of Sale.
Also suitable for teller in small size financial institutions.
Features
First-rated Authentication Technology
The RBW-10 and RZ-50 are equipped with an advanced authentication system which provides extremely accurate recognition and authentication of banknotes, sorts out in compliance to ECB categories.
Batch Cash-in and Cash-out
Large capacity feeder and exit allows mixed denominations in a single transaction. This significantly reduces customer waiting time, whilst the cashier or teller to focus on customer services.
Collection of Banknotes by Removable Cassette
Banknote stored inside of removable cassettes can easily be collected in bulk. This eliminates manual cash handling, no exposure to public areas during the transfer process.
Closer look
RBW-10 Compact banknote recycler fitting to small space like small cashdesk and counter. Bulk cash-in/out up to 30 banknotes of mix denomination, quick and accurate counting 5 notes per second. Collection cassette holding up to 450 banknotes offer you a safe cash transportation.



RZ-50

For more capacity than RBW-10 required at POS, teller and/or back office cash handling, we offer RZ Series. As the recycling drums and a collection cassette are inside the alarmed safe requiring the password to open, the security is highly reliable.

Specifications

RBW-10
RZ-50
Capacity
recycle cassette
Approx. 660 notes
Approx. 800 notes
collection cassette
Approx. 450 notes
Approx. 2,000 notes
Dimensions ( W x D x H )
240 x 652 x 400 mm
380 x 755 x 909 mm
Weight
Approx. 45kg
Approx. 155kg