Deposit - Coin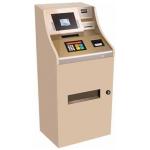 4800 - Business Deposit Machine
The 4800 Business Deposit Machine can be located at any site where customers require to deposit loose coin in either an in-lobby or through-the-wall installation. Examples include bank branches, airports and railway stations, shopping malls, supermarkets and other large retail complexes.

The user deposits loose coin, receives a receipt to record the transaction, and then approaches a teller to deposit the funds into an account or to be given notes in exchange.

Model options allow different configurations, and include the ability to be card operated, deposit direct to a bank account, and allow fees to be charged.

For the users, the 4800 offers convenience, a secure environment in which to deposit their loose coins, reduced queuing time, and an audit receipt for every transaction.

For the bank branch, the 4800 provides a convenient service to its customers and allows staff to be re-deployed to more profitable activities, while still retaining contact time with the customer when the receipt is banked.
Features
Easy to use touch screen and on-screen animations
Industry-standard coin validation module
UPS for power management
High security cabinet and locks
Large capacity
On-line management and monitoring
Modular