Information Boards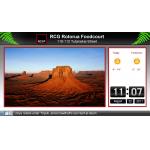 Information Boards
 

Information boards give you the ability to provide a valuable service with the ability to gain additional revenue.

 
 

With rotating images and updated information these screens can be used in common areas suchas as malls and sports clubs. Able to be customers to show multipole images the screens can provide both advertising and information at the same time.

Like all of our screens all of the information is automatically updated via internet browser!