Menu Boards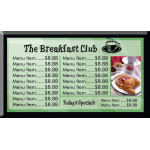 Menu Boards
 

Join the breakfast club and update your new menu display online within minutes.

No messy whiteboard markers or pieces of tape over a fading board. Now you can update your menus and images within minutes.

The images rotate showing different items every few seconds so that your customer know what everything is.